Ask Us A Question About Your Case
Meet Attorney Douglas Sughrue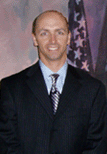 Upon being licensed to practice law in 1999, Attorney Sughrue became a criminal defense lawyer.  Part of representing people successfully in criminal court involves investigating a case to develop new leads, witnesses or other evidence that may help a client be cleared of some or all of the charges.  Developing evidence favorable to one's clients translates directly to helping federal employees obtain the benefits they deserve.
That is exactly what happened in 2006 when the mother of a federal criminal client of Sughrue Law needed help with her federal workers compensation claim.  After conducting an exhaustive search for a lawyer to which Sughrue Law could refer her and finding none, Sughrue Law decided to take her case.  After a long battle, that first federal workers compensation client was able to obtain the benefits she deserved.  Then, in 2008, Sughrue Law launched this website in an effort help more federal employees obtain the benefits they deserve.  Sughrue Law works with the Client's doctors and witnesses to develop a persuasive claim to present to the OWCP to obtain an accepted claim, expanded conditions, surgeries and devices all of which are meant to help the injured federal employee heal and get back to work in a productive manner.
Attorney Douglas Sughrue maintains an active federal criminal defense practice and has handled thousands of cases throughout his 17-year law career. By focusing his efforts on criminal law, Attorney Sughrue is on top of changing legislation, well versed in appellate decisions and committed to educating clients about the federal court process.
Educating clients and family members about the process of a criminal matter is vitally important to Attorney Sughrue. While he is committed to communicating and defending clients in an open, upfront manner, Attorney Sughrue is often described as being both confident and aggressive in the courtroom.
Bar Admission
U.S. Supreme Court
U.S. Court of Appeals, 3rd Circuit and 4th Circuit
U.S. District Court, Western District of Pennsylvania
U.S. District Court, Northern and Southern District of West Virginia
State of Pennsylvania 1999
Supreme Court of Appeals, West Virginia
Education
S. Finance, West Virginia University, 1995
D. Duquesne University School of Law, 1999
Professional Memberships
Pennsylvania Bar Association
Allegheny County Bar Association — Immediate Past Chair of Criminal Litigation Section
Pennsylvania Association of Criminal Defense Lawyers
National Association of Criminal Defense Attorneys
American Association for Justice
Pennsylvania Association of Trial Lawyers